Rekindle Your Romance with a Maui Beach Wedding Vow Renewal
$1,427
Full-Service Wedding Planner
Licensed Officiant
On-site Wedding Coordinator
Professional Photographer
35 Digitally Edited Images
Bride & Groom Fresh Flower Leis
Souvenir Wedding Certificate
A personalized copy of your Hawaiian Wedding Ceremony
*State of Hawaii requirement County of Maui Beach Permit is $50 extra
Vendor Travel Fee of $25 if applicable
Vow Renewal Package    $1,427.00
*Beach Permit:                     50.00 (state requirement)
Optional: Additional guests may be included for $15
This package comes with everything you need for a simple, beautiful and romantic Wedding Vow Renewal Ceremony on Maui!
The perfect Maui wedding "Just for the Two of You" is the Ginger Wedding Package. Your Wedding Planner is ready to assist in suggesting the perfect Maui Beach for you.
All your Wedding Planner needs is your wedding vow renewal date to book the Officiant, with your choice of a Hawaiian Ceremony with or without a Hawaiian prayer at the end. Your fresh flower leis will be either pastel or vibrant in color and your leis can be all floral or the groom may like a closed Ti leaf lei with interwoven flowers. The lei exchange during the ceremony adds that special "Aloha Spirit" feeling that you long for when coming to the Islands.
The Photographer/coordinator will bring a Souvenir Wedding Certificate, a copy of your Hawaiian Wedding Vow Renewal Ceremony, personalized with your names, date, and wedding site, and lastly, the County of Maui Beach Permit printed out on a "fun beach scene paper" as a Souvenir of your wedding day. The Photographer/coordinator will pick up your leis and be ready to greet you on the beach.
Professional Photography will be taken of those joyful and romantic wedding moments, in hopes of a spectacular sunset for which Maui's west-facing beaches are known.
50 Digital Images Professionally Edited will be uploaded to an Online Gallery.  A link will be emailed to you for viewing and downloading onto your computer. You can forward your link to friends and family to view too.
Booking Your Wedding Vow Renewal Ceremony
Please note a $25 additional travel charge, if applicable, for each vendor to travel to the south or west side beach location.



A deposit of $200 will hold the date, with the full amount due one month before the ceremony.
If there are less than 30 days before booking, the full amount is due as soon as all details are confirmed.
Wedding Vow Renewal Ceremony
Destination Maui for a Wedding Vow Renewals is the perfect paradise island to celebrate your love and renew your commitment to each other in the most meaningful way, as you enjoy your second honeymoon too!
Since Wedding Vow Renewals are all about the continued joy of the building of your relationship in love and life together forever!  Keep that spark alive!
So why not make it extra special by ordering a beautiful Hawaiian flower bouquet and having cake with a sparkling apple cider wedding toast on the beach. Think about renting a stretch limo to make it really romantic.  Add a musician to create that romantic Hawaiian ambiance, the whole reason why you came to the Hawaiian Islands in the first place.
We offer different Vow Renewal ceremonies.
To read the entire text of each, visit our Ceremonies page.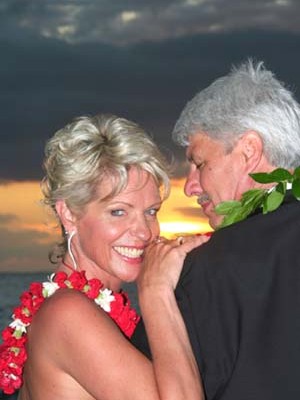 Custom Maui Vow Renewals
&

More
At Affordable Maui Weddings, we understand how special renewing your wedding vows is to you. We offer custom packages and many additional services.
Visit our Wedding Services page for more information.
View our Ala Carte menu of services.
We offer four different vow renewal ceremonies.
To read the entire text of each, visit our Ceremonies page.
Trust our experienced Wedding Planners to handle every detail of your vow renewal. Because of our many years in business and local business relationships, we're able to offer great value on services to further enhance your occasion. Enjoy in-room hair & make-up, a full video, a limo, and dinner on the beach to celebrate your vow renewal! Visit our Wedding Services page for more information.